The New Jersey 4-H Youth Development program uses a learn-by-doing approach to enable youth to develop the knowledge, attitudes, and skills they need to become competent, caring, and contributing citizens of the world. The goals of the 4-H Youth Development Program are to:
Provide informal educational programs to youth in grades K–13 (one year out of high school).
Strengthen skills for adults working with youth.
Improve community collaborations and partnerships.
To best serve our population, Salem County 4-H offers a variety of programs including community clubs and summer programs. Additional information can be found on the Salem County 4-H Facebook page.
12/20/21: Suspension of in-person 4-H programming for all of New Jersey
A message from Rachel Lyons, New Jersey 4-H Department Chair:
"Effective immediately, all in-person 4-H events, classes, programs, club meetings, camps, and other group activities organized by or under the auspices of RCE – 4-H Youth Development are suspended through January 31, 2022.
Reported daily increases in new COVID-19 cases in our state are tracking higher again and community transmission of the virus continues. To protect the health of our communities, Rutgers Cooperative Extension is aligning with the University's protocols to continue programming only in remote formats through January. This means all 4-H events, programs, club meetings, and other group activities organized by or under the auspices of Rutgers Cooperative Extension – 4-H Youth Development must be conducted remotely."
Read more about Rutgers University Operating Status here.
PARTICIPATE IN VIRTUAL 4-H: Virtual 4-H programs are still open to all youth in grades K-13! See Rutgers 4-H From Home for an updated list of online 4-H opportunities.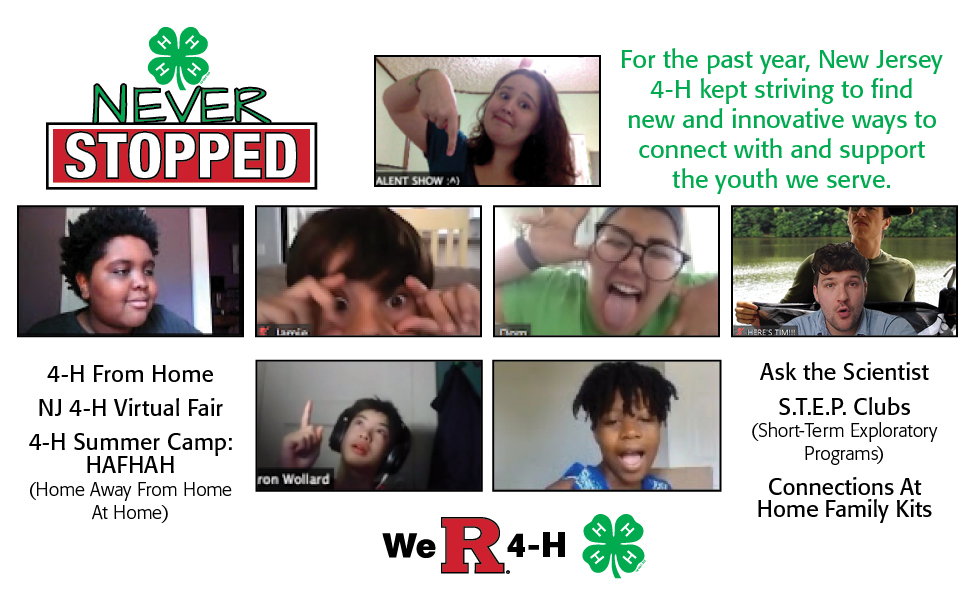 Salem County 4-H Updates for 2022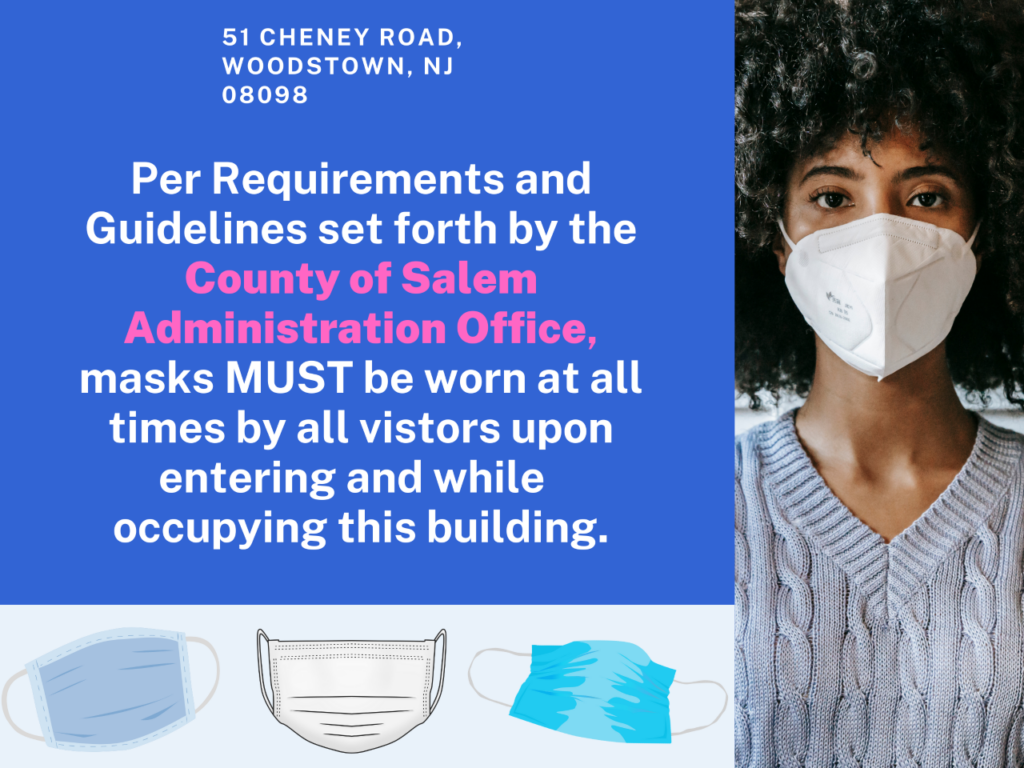 CALLING ALL TEENS INTERESTED IN AGRICULTURE AND FOOD SYSTEMS!
Apply today to attend the 4-H AgriScience Summit
At the National 4‑H Youth Summit on Agri-Science, high school students develop the skills and knowledge needed for the challenges facing agriculture, food security, and sustainability. Students will work with each other and experts in the agricultural community in this collaborative, hands-on educational setting.
Event: March 10-13, 2022
CLICK HERE for the Application for NJ youth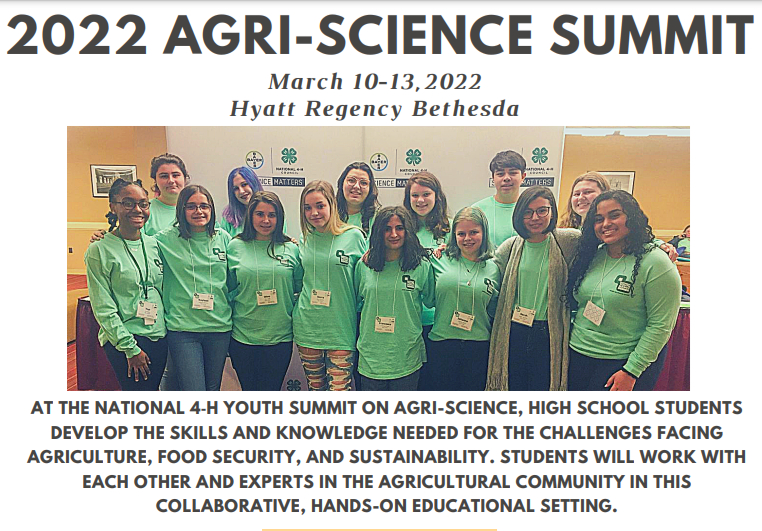 FIVE Cloverbud Nights in 2022! REGISTER HERE
NOTE: As of 12/20/21, the January Date for Cloverbud Nights is CANCELED.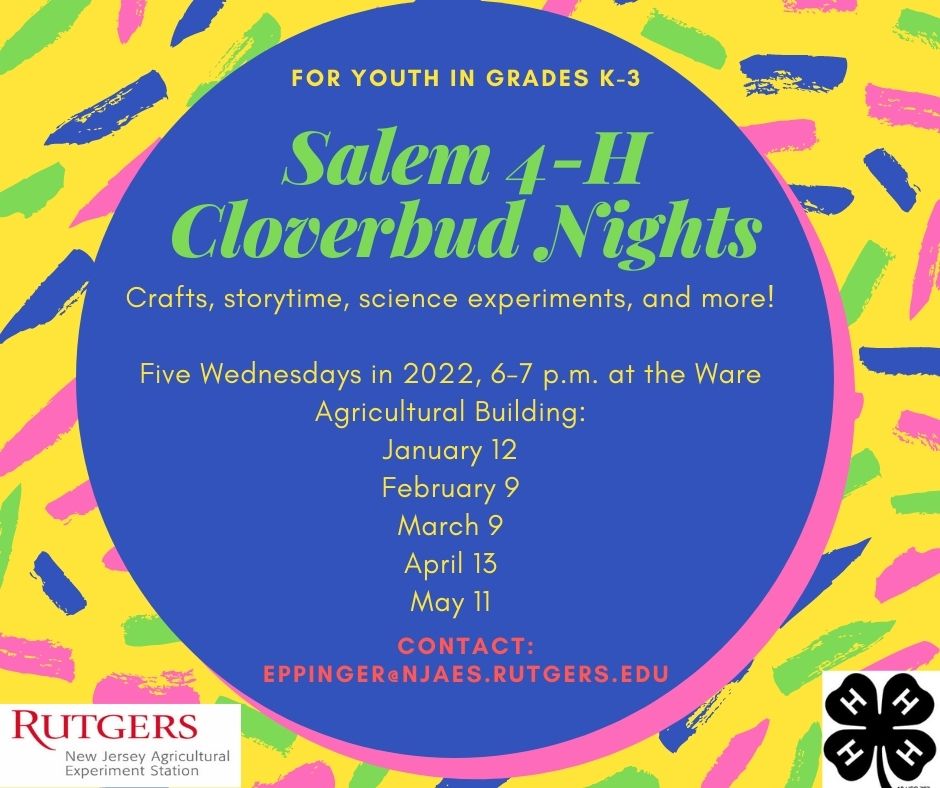 Salem County 4-H Public Presentations 2022 — SIGN UP IS AVAILABLE, CLICK HERE!