The New Jersey 4-H Youth Development program uses a learn-by-doing approach to enable youth to develop the knowledge, attitudes, and skills they need to become competent, caring, and contributing citizens of the world. The goals of the 4-H Youth Development Program are to:
Provide informal educational programs to youth in grades K–13 (one year out of high school).
Strengthen skills for adults working with youth.
Improve community collaborations and partnerships.
To best serve our population, Salem County 4-H offers a variety of programs including community clubs and summer programs. Additional information can be found on the Salem County 4-H Facebook page.
PARTICIPATE IN VIRTUAL 4-H

: Virtual 4-H programs are still open to all youth in grades K-13! See Rutgers 4-H From Home for an updated list of online 4-H opportunities.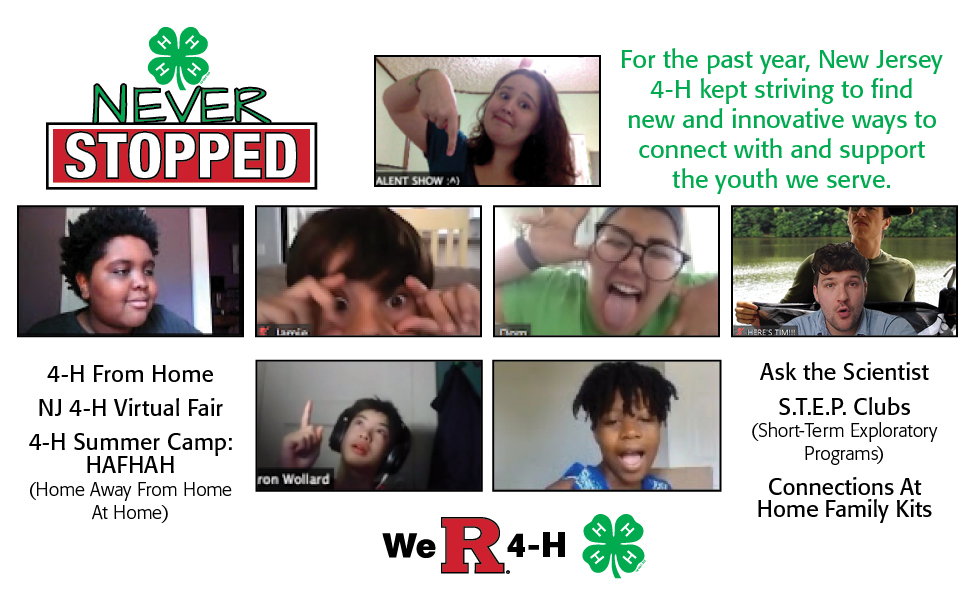 Salem County 4-H Updates for August 2021
Here is the PDF version of our bimonthly newsletter: Clover Chats for July 2021:
SAVE THE DATE: Back to 4-H Night will be Wednesday, September 29, 6-8 p.m. — open to the public. Come learn more about Salem County 4-H.
RAIN DATE, WEDNESDAY OCT 6.
THIS EVENT IS OUTDOORS AND SOCIALLY DISTANCED! Please direct all questions and concerns to eppinger@njaes.rutgers.edu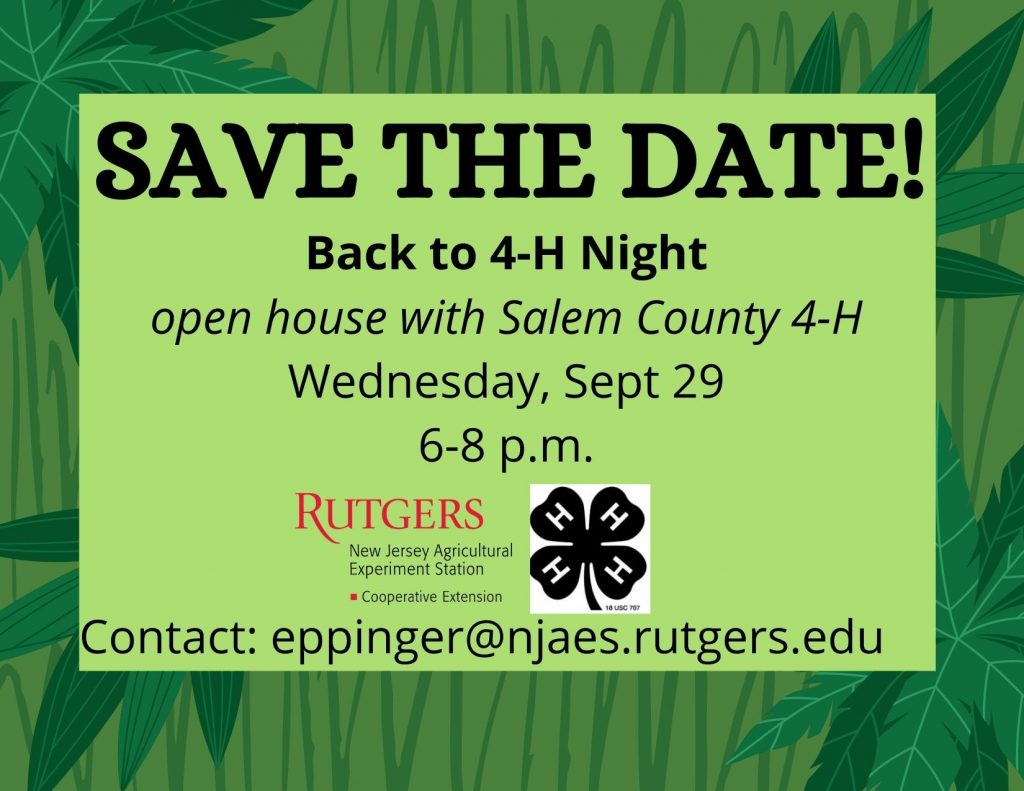 SAVE THE DATE: 2021 4-H Achievement Night: Thursday, 11/18/21 at the Elmer Grange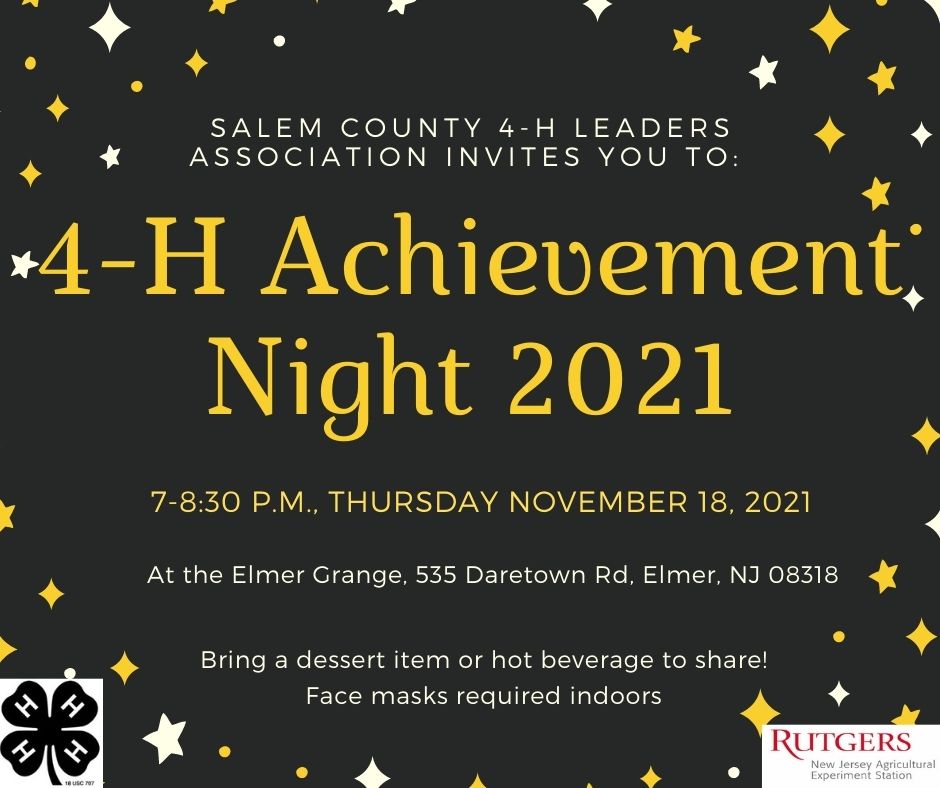 SAVE THE DATE: 4-H Holiday Crafts Night, Friday 12/10/21. Open to all youth grades K-12. Youth not enrolled in 4-H MUST be accompanied by a parent or guardian at all times! Make holiday ornaments at this fun, family-friendly event.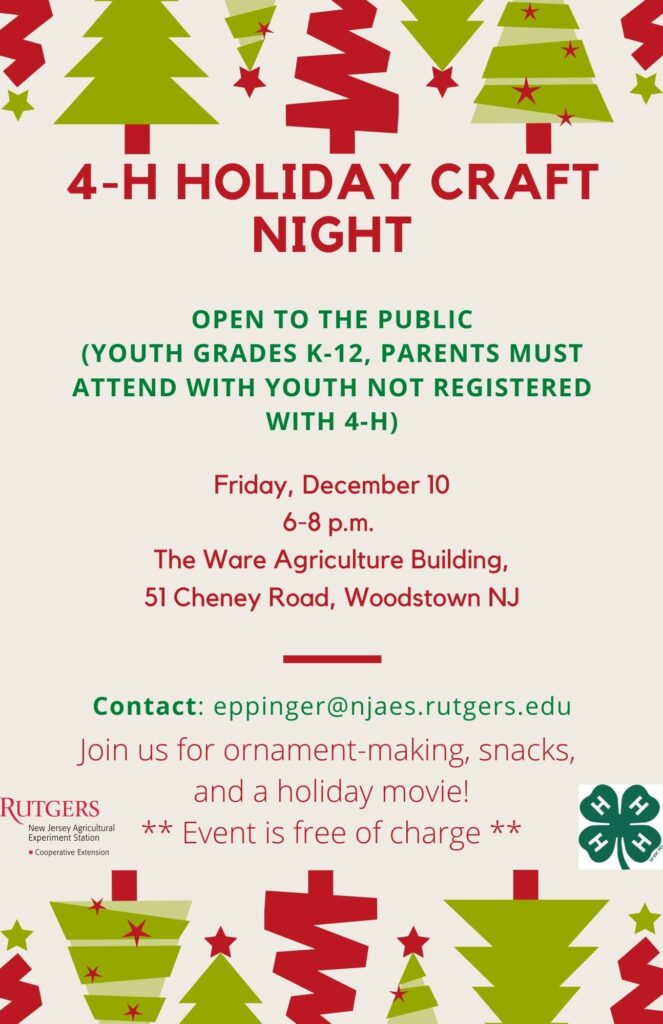 SAVE THE DATE: 4-H Rock-a-Thon Fundrasier, all day Saturday 1/22/22. Collect pledges to benefit charity, then see how long you can rock in place! Bring your own rocking chair. Movies, water, snacks, and COFFEE provided! Participants must be 4-H members to join this event. For more details contact: eppinger@njaes.rutgers.edu